We started out by taking about a foot and a half section of sod out of the middle of the sunken spot and sinking a test hole. At about the 21/2 to 3 foot range we finally broke into fill layer! Man this thing had a thick cap on it! When we first broke through we were looking for signs of age so we would no whether or not to open it up the rest of the way. We were pulling out tons of bones (owner obviously liked beef, Lots of it!) and shards of pottery and china! The shards of glass were showing good age so we opened it up to 4'x4' and cleaned the cap off down to the fill layer! After a couple turns in the hole each bottles started coming out. The first find of signigance was a A.J. Arnolds Master ink in a court size. Rick was in the hole at the time and was extremely happy with this find!
Next it was my turn in the hole and I wasn't in very long till I had two bottles treed. They both looked pretty good and we could tell that the pit was no newer than 1890 by this time. The first one to come out was one for the crying shelf. It was an M.A. Simmons Liver Cure OUUUCH! the top was busted off. I found the top beside of it and it was a perfect fit so this one's going to be repaired! The other one was a big ugly clear whiskey that I wasn't impressed with in the least
After about four or five hours of digging we started finding the walls of the privy and they were perfectly intact and made out of wood with two by four supports in the corners. Whoever built this privy was building one to last!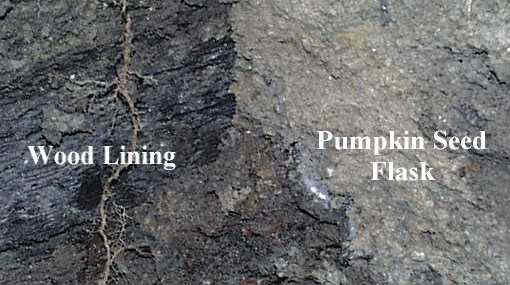 We had found several local druggist bottles and other odds and ends pieces by this point in time and it was time to take lunch. Me and Rick went to Arbys and grabbed some food and rushed back to the house now wondering if we even had time to finish this one pit today!