First Dig with Justin O'brian
01/16/2000 privy dig results
Hello all and welcome to another adventure in privy digging with The Historical Bottlediggers of Indiana, I've been extremely busy with a new baby girl and work so the stories have slowed down. I will be publishing this dig news and "Privy Madness" a new story by Matt Schaeffer author of There's a Message in that Bottle. Be sure to check it out.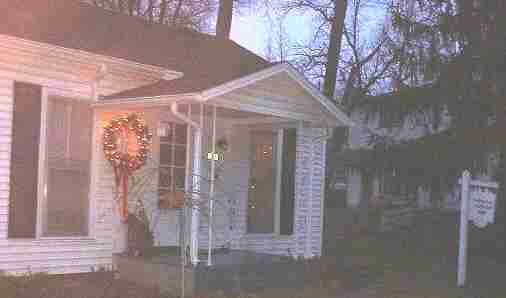 The house above should look familiar by now since this is the third week in a row that we've been digging here. Last week we probed another pit behind the first one that we had dug, making the fourth pit on this small property.
It was Saturday night and Rick had bailed out having some other business to take care so it was me and Bryan alone for this one. I was setting around hanging out with a friend when I remembered that we still had yet to do a dig with Justin. I picked up the phone and called Justin's mom to make sure it would be all right before I asked Justin. She said it was fine and after talking with Justin he was extremely excited to finally get to dig with us.
Me and Bryan arrived at Rick's around 7:30 Sunday morning and picked up Rick's truck which had all of the equipment in it. The house was only 2 blocks away so we drove up, unloaded the equipment and pulled the truck out of the way. Me and Bryan went back to the spot, probed out the possible edges, laid out the tarps and began cutting the sod. The ground was frozen down about a half inch which made the cutting and removal of the sod very easy.
We had just finished the sod removal and were working our way into the top use layer when Justin's dad dropped him off. Justin was pumped up, geared up and ready to dig. The top use layer started spitting out lots of nice china and snap top beers right off the bat and we let Justin have plenty of time in the hole since he couldn't stay for the whole dig.