SPECIAL NEWS RELEASE
Warsaw, IN—A local man who digs for historical bottles in nineteenth-century privies claims that he recently found himself prostrate at the feet of the bottle god on the planet "Pontilla." Jason Blevins, 31, was missing for at least three days prior to his sudden reappearance. Jason's absence was discovered when Rick Blevins, Jason's brother and digging partner, attempted to communicate via email regarding the lack of progress in updating their website at www.bottlediggers.com . "He never answered any of my emails. "That's really unlike Jason, not to answer email. When he's not digging, he's usually glued to the computer, or off at some barley pop-oasis playing Euchre. He usually let's people know where he's going, though," Rick noted.
Jason's sudden reappearance came as a shock to Rick and others. "He just kind of materialized," said Kim, Jason's wife. "I didn't even recognize him. His hair had grown about ten inches, and he was fully-bearded. He looked like he had aged 20 years. At first, I thought an intruder was in the house, bugging the computer or something. But after I stared past the wild gleam and looked into his eyes long enough, I finally realized it was Jason."
Jason didn't speak for several days, and his first utterances were nonsensical. "I thought he was coming off a bad case of the barley pop blues or something, like he'd guzzled a case of Schlitz or something," Rick remarked, "and when his story finally came out, I was certain of it. Then he revealed the cobalt blue glass tablet, and my jaw damn near hit the floor."
The tablet is inscribed with the "Ten Commandments" of privy digging, purportedly from the hand of the "bottle god" himself. Upon emerging from his catatonic state, Jason eventually related a remarkable story, according to which the tablet came into his possession.
"I remember being transported—lifted against my will—literally 'beamed' above and beyond the trees and into a shiny, disc-like conveyance that hovered with a barely audible whirring sound above me. Frightened, but unable to resist it, I resigned to my fate, whatever that might be. When on board and in the light of the craft, I momentarily glanced at my abductors. Their shape was not unlike that of C3PO, and there were too many to count. Their entire bodies seemed to be composed of a multiplicity of small, prismatic glass sequins or scales, each reflecting a different hue: amber, citron, puce, teal, amethyst, cobalt, black, ruby, olive, emerald, aqua—every color imaginable. When they strapped me onto a cold, metallic table and began to probe me, the situation became so overwhelming that I blacked out. The next thing I remember is regaining consciousness inside a great, glass-domed hall. I was alone, naked and bound, and on my knees before a raging, reddish-yellow glory hole furnace which spoke its will to me, thus issuing the Ten Commandments of privy digging. Kind of like God did to Moses on Mount Sinai," he added. "With each stern proclamation, a fierce finger of flame lashed out from the furnace and inscribed the Commandment on a tablet of brilliant cobalt blue glass. Although the bottle god spoke in a voice harsh and angry, I felt no fear, but rather a solemn and inner peace in having been chosen to kneel before the epitome of righteousness and hear his message, moreover deliver it to the privy-digging world." Jason recalls little else from his encounter, but notes that "it seemed like I was gone a long, long, long time."
Authorities remain perplexed. While most analysts dismiss the account as a bizarre hoax or the ranting and raving of a madman, the existence of the cobalt blue glass tablet has others confounded. Some have posited the possibility that Jason commissioned the manufacture of the tablet by Wheaton or another glasshouse, but none have come forward to offer an admission. An investigation continues in an attempt to ascertain the tablet's authenticity, but so far it has yielded no evidence to refute Mr. Blevins' claim.
Following are the Ten Commandments of Privy Digging as inscribed on the cobalt blue tablet:
Dig News!
Latest Digging Results!
NEW! April Fools Day Dig by Matt Schaeffer The is a long one will take some time to load 07/12/2000 (PICS!)
Another good pit 03/15/2000 (PICS!)
First Dig with Justin O'brian 01/16/2000 (PICS!)
The 2 Pit in One Short Day Attempt: 01/09/2000 ( PICS!)
1850 house pit number two the OP PIT 12/19/1999 (PICS!)
First Privy Dig of the Millennium 01/02/2000 (PICS!)
The Three part mold hole! 1850 house! 12/12/99 (PICS! )
Jason's Lone Privy Adventure! 12/05/99 (PICS!)

Two days of digging in November

12/01/99 (PICS!)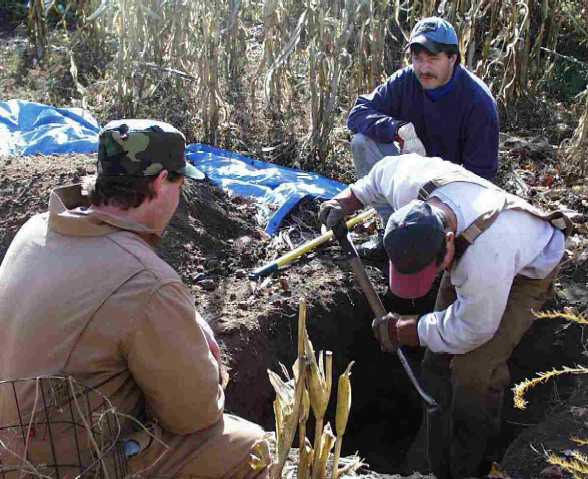 Results of Big Dig in Michigan With Scott and Dan (pics) 11/11/99

THE RIVERS EVEN LOWER LET'S FLOAT IT!08/03/99 (PICS!)

THE RIVERS LOW, LET'S SEE WHAT WE CAN FIND! 07/20/99 (PICS!)

RICK'S PRIVY 05/10/99

THE SECOND AND THIRD PRIVIES 04/23/99

THE FIRST PRIVY! (PICS!) 04/10/99

The almost good dump!!!!! (PICS!) 04/06/99

The Three Rivers part one 02/17/99

The Three Rivers part two 03/03/99 - 03/16/99

Return to the Historical Bottlediggers of Indana Homepage