WE STARTED BY GETTING A FEW POINTERS ON HOW SCOTT AND DAN LOCATED AND WHAT KIND OF PROBES THAT THEY USED. WE USED THE FIRST LOCATED PIT AS AN EXAMPLE AND ME AND RICK QUICKLY GOT THE HANG OF IT. AFTER THE TWO PITS HAD BEEN RE-LOCATED IT WAS TIME TO START DIGGING!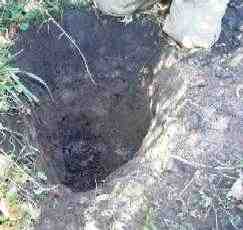 WE STARTED OUT BY DOING A TEST HOLE ON THE FIRST ONE AND DAN POINTING OUT THE COLOR CHANGE IN THE LAYERS FROM THE CAP TO THE USE LAYER (SHOWN LEFT).
WE CONTINUED TO DIG FOR A SHORT WHILE IN THIS PIT TILL WE DECIDED THAT IT WAS SHALLOW AND TOO NEW FOR US TO CONTINUE IN SO WE FILLED IT IN AND STARTED IN ON THE SECOND PIT!
DAN LOOKING AT ONE OF THE LESS THAN PRODUCTIVE PIECES FROM THIS PIT! (RIGHT)