THE ALMOST GOOD DUMP!
LAST THURSDAY A GUY FROM WORK GAVE ME PERMISSION TO DIG IN A DUMP THAT MY DAD AND BROTHER HAD DUG IN SEVERAL YEARS AGO. MY DAD AND BROTHER DUG THE DUMP FOR ONE DAY AND THE NEXT DAY THE GUY SAID NO MORE DIGGING BECAUSE THEY WERE GOING TO DIG HIS GARAGE UNDER AND IT WAS GOING TO SLIDE INTO THE RIVER. WELL NEEDLESS TO SAY I WAS ALL PUMPED UP, RICK COULDN'T MAKE IT SO I HAD TO DO THIS ONE ALONE. I WENT OVER TO THE GUYS HOUSE AS SOON AS I LEFT WORK AND DIDN'T EVEN BOTHER TO GO HOME AND CHANGE (I'M AN MIS DIRECTOR, SO THEY WEREN'T DIGGING CLOTHES, OH WELL WHO CARES!). WHEN I GOT TO HIS HOUSE I WENT DOWN TO THE PLACE AND FOUND AN AMBER "FOLEYS KIDNEY AND BLADDER CURE" LAYING ON GROUND. I WENT UP THE BANK AND STARTED DIGGING, STRANGE HARDLY ANY BROKEN GLASS, WHAT'S THIS? I CAME OUT WITH A NICE "HALLS CATTARH CURE", THEN SEVERAL SCREW TOPS???? MIXED!!!!!! BEFORE I FINISHED FOR THE DAY THE ONLY OTHER REALLY DECENT FIND WAS A "DR. D. JAYNES TONIC VERMIFUGE" AND A "PLUTO WATER, AMERICAS PHYSIC".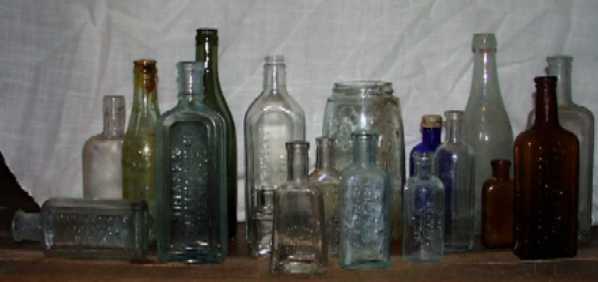 (SOME OF MY FINDS ARE PICTURED ABOVE)
ON FRIDAY ME AND RICK WENT BACK AND I STARTED BACK INTO THE SAME SPOT. I FOUND THREE DIFFERENT DR. MILES BOTTLES AND A FEW OTHER ODDS AND ENDS. RICK WENT DOWN AND STARTED PROBING IN THE MUCK AND FOUND A NO NAME BLOP TOP AND SEVERAL BROKEN MEDICINES. RIGHT ABOVE THE MUCK PIT HE WAS PROBING IN WAS A NICE SPOT TO START DIGGING SO HE WENT AT IT. ALMOST IMMEDIATELY HE CAME OUT WITH A NICE "E-Z STOVE POLISH". A LITTLE FURTHER BACK AND HE STARTED COMING OUT WITH ANCIENT LOOKING PIECES OF MEDICINES. HE DUG UP A NICE "ATRISKS MAGNETIC OINTMENT" AND A COUPLE OTHER NO NAME PIECES ALL EXTREMELY OLD. IT WAS DARK, OH WELL THERE WAS ALWAYS SATURDAY!!!!!!
(PICTURED ABOVE TWO OF RICKS FINDS ATRISKS MAGNETIC OINTMENT AND E-Z STOVE POLISH)
WE WENT BACK SATURDAY AND STARTED RIGHT IN MOVING LARGE PIECES OF CONCRETE AND A DEAD TREE TO GET A BETTER APPROACH TO THE SPOT. WE DUG THE HELL OUT OF IT AND DIDN'T FIND ANYTHING BUT SCREW TOPS AND NO NAME CLEAR BOTTLES. WELL WE THOUGHT WE HAD IT!!!!!!!
WE GAVE UP ON THE DUMP AND WENT TO THE TOWN WHERE SCOTT AND DAN ARE GOING TO BE HELPING US. IT STARTED TO SPRINKLE RIGHT BEFORE WE GOT THERE. WE BROKE OUT THE PROBES AND WENT TO THE FIRST HOUSE. WE HAD DUG A THREE FOOT DEEP TRASH PIT LAST YEAR AND ABOUT TWO FEET FROM IT WE FOUND ONE OF THE PRIVYS FINALLY!!!!!! OUR PROBES WENT RIGHT UP TO THE HILT IN THE PIT (5 FEET) AND WE WERE HITTING WHAT SEEMED TO BE GLASS AT THAT LEVEL AND ABOVE IT. THEN IT STARTED POURING THE RAIN, TO COLD FOR THIS!
STAY TUNED THE RESULTS FROM THE PIT WILL BE IN EARLY NEXT WEEK.