Rick was in the hole again and it was his lucky day as he was working his way back to the other side at the bottom of the pi he hit into the top of another crock beer, would this one be whole?
Yes it would and man was it another nice piece for the pick pile, now it was the harter's or the crock beer!
My next turn in the hole I worked back to the east side of the pit and treed another bottle, would this one be an OP, nope but it was a nice local Druggist bottle with the morter and pestal embossed on it. We finished the rest of the pit dry and it left five picks to be had but we decided the fruit jar wouldn't be a pick as neither of us care for fruit jars too much, even though this was a nice one.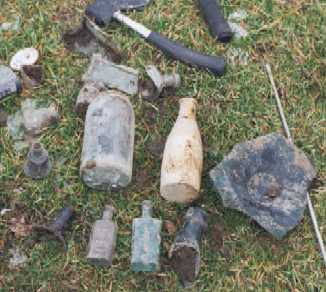 we filled the hole back in and repaired the sod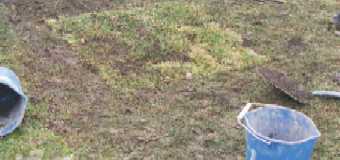 after this we took off for home and flipped the coin in the truck, I won and took the harter's, Rick took the crock beer, I took the ink and Rick took the druggist.
This pit was pretty dry only five finds but they were good ones!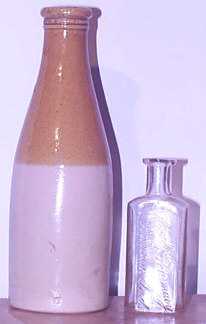 Till next time "Enjoy the Dig!"