We still hadn't found the bottom of the pit and we were running out of time and we knew it. We still had to fill in three or four tons of dirt plus do the sod repairs before it got dark.
The next thing to happen was beyond bizarre. We started pulling out handsfull of small three part mold clear pill bottles and it continued till the pit was done. I've never seen so many of the same bottle in one hole there were at least 150-200 of these bottles. We finally found the bottom and we started working it down starting at one side. During my second time in the hole during the bottom clean out I was starting to dig pretty hard and flipping tons of those small bottles out of the bottom of the hole. This was getting really annoying when all of a sudden my digger caught on the neck of a bottle. Fortunately I felt it in time and didn't jerk the top clean off of it!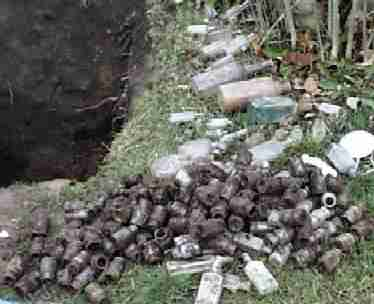 HUNDREDS OF THEM!
The top pick could change here I could tell from the neck!
Man was this pit old probably early 1870's to late 1880's. I worked around an pulled it out finally.
It was an extremely crude Arthurs Balsum of White Pine! The top pick just got tough! I also flipped out a miniature sheared lip Ely's cream Balm before I finished.
Rick got back in the hole and finished it up pulling out one more nice bottle an extremely crude and old medicine in a sweet shape (no name but I still took it on my second pick!)
We filled this one back in and gathered up our equipment by now it was too dark to see anything so we're going back on Mondy to do the sod repair!
There are two more pits in this yard and two more pits in the neighbors yard right next to where this one was so we'll definately be coming back!
This pit was over six feet deep and over four foot square and it took me and Rick eight hours to dig it but we did it correctly and that is what's important!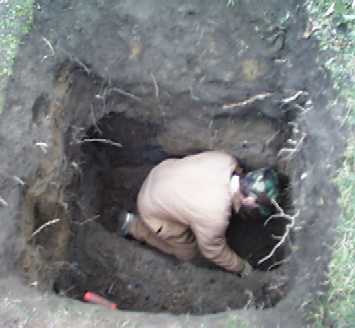 THIS WAS A BIG PIT!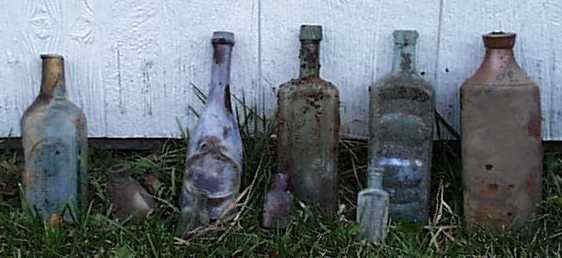 THE PICK PILE
MY PICK!
Well till next time, Enjoy The Dig!!!!!
Return to the Historical Bottlediggers of Indiana Homepage