DAN WON THE COIN TOSS AND I CAME IN SECOND, SCOTT WON THIRD AND RICK TOOK FOURTH!
DAN TOOK THE ELECTRIC BITTERS AND I FOLLOWED HIM BY SELECTING THE PARK DAVIS CO. IN THE SWEET COLOR. SCOTT TOOK THE NICE NY PHARMACY BOTTLE AND RICK GOT THE BUCHU AND IRON BITTERS! THEN WE TOOK TURNS SELECTING AND PICKING SOME OUT FOR THE OWNER OF THE HOUSE UNTILL WE WERE DONE. THEN WE PACKED UP SAID OUR FAREWELLS AND HEADED FOR HOME!
DANS PICKS (LEFT)
JASONS PICKS (RIGHT)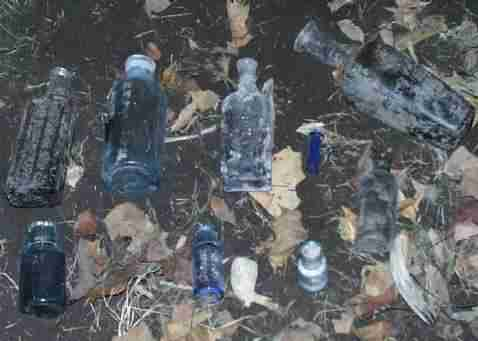 SCOTT'S PICKS (LEFT)
RICK'S PICKS (RIGHT)
ME AND RICK HAD A GREAT TIME ON THIS DIG AND ADDED SOME NICE PIECES TO OUR COLLECTIONS AND OUR PUBLIC DISPLAYS!
THANKS AGAIN FOR THE CHANCE TO DIG WITH YOU GUYS AND I'M SURE WE'LL BE DOING IT AGAIN SOMETIME!
TILL NEXT AS ALWAYS "ENJOY THE DIG!"