DAN JUMPED IN THE HOLE TOWARDS THE BOTTOM AND DUG FOR A FEW MINUTES BEFORE PULLING OUT AND HOLDING UP A NICE ELECTRIC BITTERS!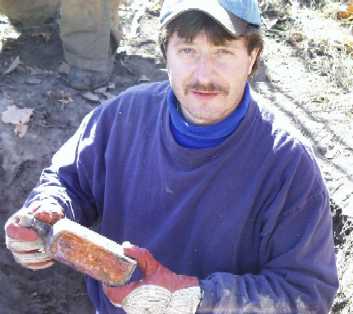 AS FAR AS I CAN REMEMBER (DON'T FORGET I WAS STILL IN SHOCK FROM THE BROKEN FLASKS) THIS WAS PRETTY MUCH IT FOR THIS HOLE!
WE FILLED IT BACK IN AND STARTED ON ANOTHER ONE RIGHT NEXT TO THIS ONE!
ONE MORE THING ABOUT THIS PIT WE WERE DIGGING, SCOTT AND DAN HAD STATED THAT MOST PITS IN THIS AREA WERE FOUR FEET DEEP AND THIS ONE WAS SIX!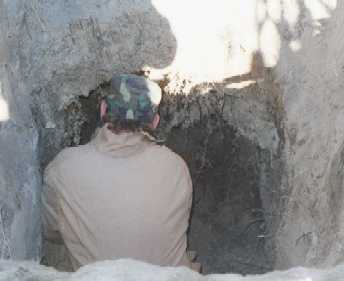 THE NEXT PIT WAS NEWER AND WAS FOUR FEET DEEP BUT PRODUCED SEVERAL BOTTLES SOME OF THE BEST BEING A T. KINGSFORD, OSWEGO, NY ORIENTAL TOILET WATER *(SMALL EIGHT PANELED), DR. PIERCES FAVORITE PRECRIPTION, CHARLES ELIS & SON, PHILADELPHIA, SAMPLE DR. KILMERS, SWAMP ROOT KIDNEY CURE, SOME MILES, PUMPKIN SEED FLASKS AND THIS WEEKS PRIZE THE GEONORRIS CO. DETROIT MICHIGAN BLOP TOP BEER!
THEN IT WAS TIME TO SPLIT UP THE BOTTLES