THE RIVERS EVEN LOWER
LET'S FLOAT IT!
WELL THE RIVER IS AT ONE OF THE LOWEST POINTS THAT WE HAVE EVER SEEN IT SO WE DECIDED TO DO A SHORT FLOAT ON SATURDAY MORNING.
WE LEFT ABOUT 9:30 SATURDAY MORNING AND WE WERE ON THE RIVER BY 10 AFTER FIGHTING OUR WAY THROUGH THE WOODS WITH THE BOAT TO GET IT TO THE RIVER (WOULDN'T BE AN ADVENTURE WITHOUT A FEW NETTLES SOME POISON OAK AND A FEW HORSEFLY BITES TO SHOW FOR IT.)
WE STARTED OUT BY OARING UP TO A LARGE SANDBAR IN THE MIDDLE OF THE RIVER AND FOUND NOTHING BUT A FEW PIECES OF NEWER GLASS SO DOWN THE RIVER WE WENT.
WE STOPPED BY A FEW LIKELY LOOKING SPOTS IN THE FIRST QUARTER MILE BUT TURNED UP NOTHING BEFORE COMING TO ANOTHER SANDBAR JUST NORTH OF A BRIDGE. GUESS WHAT WE FOUND NOTHING HERE ALSO!
AS WE WERE PASSING UNDER THE BRIDGE RICK AND ME NOTICED A JAR STICKING OUT FROM UNDER THE BANK ON THE LEFT SIDE OF THE RIVER SO WE OARED OVER TO CHECK IT OUT. THE BRIDGE WAS APPARENTLY BUILT OVER A DUMP SOMETIME IN THE 40'S OR 50'S AND THE DUMP MUST HAVE BEEN PRETTY FRESH AT THAT TIME BECAUSE ALL THAT WE SEEN WERE SCREWTOPS STICKING OUT FROM UNDER THE BANK. (I WOULD LIKE FOR ONCE TO FIND ONE OF THESE SPOTS LIKE THIS WASHED OUT WITH NOTHING BUT BITTERS AND FLASKS STICKING OUT!)
WELL ENOUGH DAYDREAMING!
THE NEXT STOP WAS JUST NORTH OF THE OLD COVERED BRIDGE. I HAVE WADED THIS SPOT EVERY YEAR FOR ABOUT FIVE YEARS NOW AND HAVE NOT FOUND THE FIRST DECENT BOTTLE, BUT RICK SAID THAT HE HAD FOUND BLOP TOPS AND HUTCHINSONS AND OTHER GOOD PIECES HERE.
WE TURNED UP NOTHING NORTH OF THE BRIDGE AND I EXPLAINED TO RICK THAT I NEVER WADED UP THAT FAR AND ALWAYS STAYED ON THE SOUTH SIDE OF THE BRIDGE. WE FLOATED DOWN TO THE SPOT WHERE I ALWAYS WALK DOWN TO THE RIVER ON A SMALL SANDBAR COVERED WITH ROCKS. BEFORE WE EVEN GOT TO THE BAR I SAW THE SIDE OF A BOTTLE STICKING OUT OF THE BANK. WHEN WE LANDED I WALKED OVER TO THE SPOT AND SAW THE SIDE OF A GREEN BOTTLE WITH HALF OF SOME SORT OF ROUND SEAL SHOWING ABOVE THE DIRT (IT WAS PRETTY WELL BURIED). I COULDN'T SEE THE NECK BUT IT LOOKED PRETTY GOOD. RICK WAS ALREADY WADING IN THE WATER SO I STARTED USING MY PROBE TO UNCOVER THE NECK. TO MY SURPRISE WHEN I UNCOVERED THE TOP OF THE BOTTLE IT WAS A CORK TOP?????? HUH!, WONDER WHAT THAT COULD BE. I CALLED RICK OVER TO SHOW HIM AND HE SAID "THAT LOOKS LIKE A REAL GOOD ONE AND I DON'T RECOGNIZE IT," "NEITHER DO I" I SAID IN RETURN. I FINISHED DIGGING IT OUT AND IT TURNED OUT TO BE A NICE "PABST "B", MILWAUKEE" WITH A ROUND SEAL WITH SOME SORT OF LEAF SURROUNDING THE "B".

WE STARTED PROBING IN THE MUDDY SPOTS NEAR WHERE I FOUND THE PABST AND CAME UP WITH SOME NICE FRAGMENTS INCLUDING SQUAT BLOP BEERS AND MEDICINES BUT NOTHING WHOLE.
WE SEARCHED THE AREA THOROUGHLY BUT DIDN'T FIND MUCH ELSE.
JUST A SHORT DISTANCE DOWN THE RIVER WAS ANOTHER SANDBAR IN THE MIDDLE OF THE RIVER SO WE DECIDED TO STOP AND GIVE IT A SHOT.
ALMOST IMMEDIATELY AFTER LEAVING THE BOAT RICK FOUND A DIRTY MAGAZINE AND A SHOE IN THE MIDDLE OF THE RIVER. WE DECIDED THAT SOME GUY MUST HAVE BEEN TRYING TO SHAKE HIS ANGRY WIFE OFF HIS TRAIL SO HE ENTERED THE RIVER TO COVER HIS TRACKS. UNFORTUNATELY HE FELL AND LOST NOT JUST HIS FAVORITE MAGAZINE BUT HIS LEFT SHOE AS WELL.
I FOUND A "WALTER RAUPER"QUART BLOP TOP BEER THAT WAS SO ENCRUSTED AND BARNACLE COVERED THAT AT FIRST I THOUGHT IT WAS HONEY AMBER. IT TURNED OUT THAT IT WAS ACTUALLY GREEN. I ALSO FOUND A NICE "A.J. ARNOLD, LONDON" CROCK MASTER INK BURIED UP IN THE SAND UNDERNEATH THE BANK A LITTLE FARTHER DOWN THE RIVER.
THE REST OF THE FINDS IN THIS AREA WERE ALL COMMON.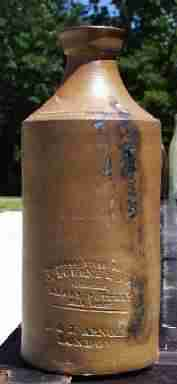 WELL THAT PRETTY MUCH SUMS UP THE TRIP, WE FOUND SEVERAL EMBOSSED AND PAINED SODAS AND DECENT SNAP TOP STUFF AND ONE MILK BOTTLE. PICTURED ABOVE SECOND FROM LEFT IS A "ONE TALL ONE," PICTURING A MAN WITH A TOP HAT AND CANE, I ALWAYS LIKED THESE SODA BOTTLES. PICTURED LEFT A MILK BOTTLE, PICTURED FAR RIGHT THE ENCRUSTED "WALTER RAUPER," PICTURED THIRD FROM LEFT AN ENGRAVED DR. PEPPER" WITH A CLOCK ENGRAVED IN ONE SIDE A PRETTY NEAT BOTTLE, RICK HAS HAD THEM BEFORE BUT I DON'T THINK THAT I HAVE.
WELL IT LOOKS LIKE MAYBE ANOTHER RIVER EXCURSION FOR US THIS COMING WEEKEND. THE GROUND IS TOO HARD TO PROBE AND I HAVE BEEN BUSY PUTTING UP A HISTORICAL BOTTLE DISPLAY IN THE HUNTINGTON, IN PUBLIC LIBRARY SO I HAVE HAD NO TIME TO TRY TO FIND PERMISSIONS ANYWAY.
TILL NEXT TIME,
"ENJOY THE DIG"
RETURN TO THE HISTORICAL BOTTLEDIGGERS OF INDIANA HOME