THE RIVERS LOW, LET'S SEE WHAT WE CAN FIND!
THE RIVER WAS AT ONE OF THE LOWEST POINTS THAT WE HAVE SEEN IT IN YEARS AND WE DECIDED TO CHECK OUT SOME OF THE GOOD WADING SPOTS THAT WE HADN'T HIT THIS YEAR. ME AND RICK DECIDED THAT SATURDAY MORNING AT 9:00 A.M. WE WOULD HIT THE RIVER AND DO SOME WADING BEFORE IT RAINED AND THE LEVELS ROSE AGAIN. IT HAS BEEN PRETTY MUCH A DRAUGHT FOR ABOUT 4 WEEKS HERE NOW AND WE WERE SUPPOSED TO GET THUNDERSTORMS SATURDAY EVENING. JOHN ELMER' A TRAINER FROM SMART SHOP SOFTWARE (MANUFACTURING SOFTWARE) WAS AT MY PLACE OF EMPLOYMENT HELPING ME WITH IMPLEMENTING NEW SOFTWARE AND HE WAS INTERESTED IN WHAT WE DONE FOR A HOBBY SO I INVITED HIM TO JOIN US FOR THIS EXPEDITION.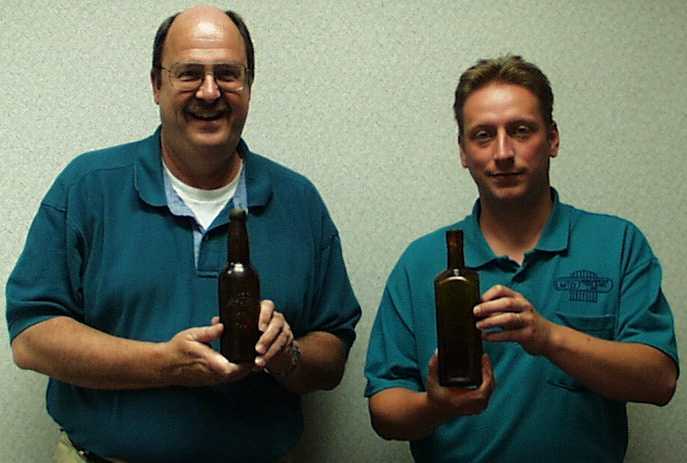 PICTURED ABOVE LEFT IS JOHN WITH HIS BLOP BEER AND PICTURED RIGHT IS ME WITH THE VERY NICE BOTTLE THAT YOU'LL SEE AND READ ABOUT BELOW!

WE STARTED OUT WADING THE RIVER TO A BEND THAT WE HAD BEEN UNABLE TO REACH EXCEPT BY BOAT UNTIL THIS YEAR. THE RIVER WAS SO LOW THAT WE COULD HAVE WALKED DOWN THE MIDDLE OF THE RIVER ALL OF THE WAY TO THE SANDBAR AT THE BEND. WE DIDN'T REALIZE THIS WHILE HEADING TO THE BAR SO WE TRAVELED SOME IN THE JUNGLE OVERGROWTH OF THE BANK BEFORE RE-ENTERING THE RIVER CLOSE TO THE BEND. ME AND RICK REACHED THE SANDBAR FIRST AND MADE A QUICK SWEEP OF THE AREA. RICK FOUND ONE DECENT MEDICINE WITH A CHIP IN THE LIP AND A HOBBLESKIRT COCA COLA BOTTLE. I FOUND A NO NAME CLEAR MEDICINE WITH THE CORK STILL IN ITAND JOHN FOUND A COUPLE OF SCREW TOP MEDICINES. WE GAVE ALL OF THE FINDS TO JOHN AND HEADED BACK UP RIVER TO ANOTHER SPOT THAT WE HADN'T BEEN TO IN A WHILE.

ABOVE THE DAM AND UNDER THE TRUSSEL IS THE NEXT SPOT THAT WE HIT. I FOUND ABSOLUTELY NOTHING BUT RICK AND JOHN HAD BETTER LUCK. JOHN FOUND A VERY NICE INDIANA BREWING COMPANY, MARION, IN AMBER BLOP TOP BEER BOTTLE, THIS ONE HAD A NICE EMBOSSMENT OF A PLOW, A MAN AND AN OXEN EMBOSSED ON IT. RICK FOUND ANOTHER BEER BOTTLE FROM LOGANSPORT, IN THIS ONE WAS A GREEN SNAP TOP. OH WELL, ON TO THE NEXT STOP.

THE NEXT STOP WAS, YOU GUESSED IT, THE SEWAGE PITS. THE AMOUNT OF GLASS IN THIS PART OF THE RIVER IS RIDICULOUS. WE WERE PICKING UP PIECES OF BITTERS, FLASKS AND ONE TOP OF WHAT WOULD HAVE BEEN A BEAUTIFUL PEPPER SAUCE. WE HAVE NEVER BEEN ABLE TO PINPOINT EXACTLY WHERE ALL OF THE BOTTLES AND GLASS IN THIS AREA COME FROM, BUT IT APPEARS TO HAVE AN AGE RANGE OF ABOUT 80 YEARS OR MORE. WE PICK UP 1950'S PIECES RIGHT NEXT TO 1870'S PIECES. WE DIDN'T HAVE MUCH LUCK WADING BECAUSE OF THE OVERCAST AND THE WIND CHOPPING UP THE WATER MAKING IT TO DIFFICULT TO SEE. JOHN FINALLY GAVE UP ABOUT NOON AND WENT BACK TO HIS HOTEL. ME AND RICK STARTED PROBING IN THE MUCK. RICK HIT A FEW RIGHT OFF BUT NONE OF THEM WERE KEEPERS. THE FIRST ONE I HIT WAS A QUART WALTER RAUPER BREWING CO., COLUMBIA CITY, IN GREEN SNAP TOP BEER. ABOUT FIFTEEN MINUTES LATER RICK PROBED INTO A BUNCH ALL IN ONE PLACE, THEY WERE ALL SCREW TOPS OR NEW SNAP TOPS NOTHING WORTH NOTICE. HE DID HOWEVER PULL OUT THE BOTTOM ONE QUARTER OF AN IRON PONTILLED AMBER FLASK WITH LOTS OF EMBOSSMENT ON IT NONE OF WHICH WE COULD READ BECAUSE OF THE AGE AND THE DAMAGE FROM THE SAND IN THE RIVER WASHING OVER IT. I STARTED JUST NORTH OF WHERE RICK WAS AT AND PROBED THREE ROCKS ALL OF WHICH I THOUGHT SOUNDED LIKE GLASS, THIS IS AN EASY MISTAKE TO MAKE WHEN YOU HAVE BEEN DOING IT FOR A WHILE AS YOU START TO THINK EVERYTHING SOUNDS LIKE GLASS (PROBABLY BECAUSE YOU WANT IT TO). I PROBED ONTO ONE AND ASK RICK TO COME CHECK IT FOR ME, SOUNDED LIKE A ROCK AGAIN. RICK CHECKED IT AND SAID IT'S GLASS. I WAS PROBING A LITTLE DOWN FROM THE SPOT AND TOLD HIM TO DIG ENOUGH OUT TO CHECK IT. "IT'S GLASS AND IT'S AMBER" RICK SAID TO ME, SO I WENT BACK DOWN AND LOOKED IN THE SMALL HOLE HE HAD DUG. IT WAS GLASS AND IT APPEARED TO BE SQUARE. I STARTED MOVING THE MUCK FROM AROUND IT SO THAT I COULD GET A BETTER ANGLE ON DIGGING IT OUT WHEN I REALIZED THAT IT WAS SQUARE FOR SURE AND THAT IT WAS ALSO A LARGE BOTTLE............ BITTERS????????? NOW I WAS GETTING EXCITED. I LAID DOWN MY DIGGING PROBE AND WENT TO WORK WITH MY FINGERS WORKING AROUND IT. "RICK, COME HERE AND CHECK THIS I CAN FEEL WRITING ON THE ONE SIDE" RICK CAME DOWN AND CHECKED IT "IT'S PROBABLY A HOSTETTERS OR A CELERY COMPOUND" I SAID TO RICK AS HE WAS FEELING THE SIDE OF THE BOTTLE. "IT'S NEITHER ONE THE WRITINGS GOING IN THE WRONG DIRECTION" RICK SAID TO ME, SO I CHECKED IT AND SURE ENOUGH THE WRITING WAS HORIZONTAL NOT VERTICAL IF YOU WERE LOOKING AT THE BOTTLE IN AN UPRIGHT POSITION. YES!!!, A GOOD BITTERS. I STARTED WORKING AROUND IT AGAIN WITH MY FINGERS (BY THE WAY I DO NOT SUGGEST THAT YOU DO THIS, AS YOU COULD CUT YOURSELF VERY EASILY) AND FINALLY GOT TO WHERE I HAD TO TRY TO DIG OUT SOME OF THE NECK. THIS IS THE SCARY PART, I KEPT THINKING PLEASE LET THERE BE A NECK, PLEASE DON'T LET THIS ONE BE BROKEN. I UNCOVERED A SMALL PART OF THE NECK AND SAID TO RICK "WELL AT LEAST SOME OF THE NECK IS THERE". I FINALLY REACHED THE TOP AND IT APPEARED TO BE WHOLE. THE NECK WAS SHORTER THAN MOST BOTTLES OF THIS SIZE THAT I HAVE SEEN SO I WAS NOW POSITIVE THAT THIS WAS A GOOD ONE. I FINALLY FREED IT, AND IT WAS NOT ONLY WHOLE BUT IN EXCELLENT CONDITION. I TOOK IT OUT INTO THE RIVER AND WASHED IT OFF AND OUT. RICK WAS STANDING BY ME AND WE READ IT TOGETHER "JONES AND PRIMLEY COMPANY, ELKHART INDIANA" WAS PRINTED HORIZONTALLY ON THE ONE SIDE AND SO I FLIPPED IT OVER

"PRIMLEY'S IRON AND WAHOO TONIC"WELL I WAS WRONG IT WASN'T A BITTERS BUT I WAS HAPPIER THAN A PIG IN THE SEWAGE PIT WITH THE FIND. IT WAS LOOKING LIKE RAIN SO WE HEADED FOR HOME.

THE RUSH OF FINDING THE BOTTLE WAS GREAT! JOHN HAD A GREAT TIME AND SAYS THAT EVERY TIME HE SEES A CREEK OR A RIVER WHILE HE'S DRIVING HE STARTS LOOKING AT THEM AND WONDERING WHAT MIGHT BE IN IT. WELL TILL NEXT TIME ENJOY THE PICS BELOW AND AS ALWAY ENJOY THE DIG!!!!!!